Budget Billing Program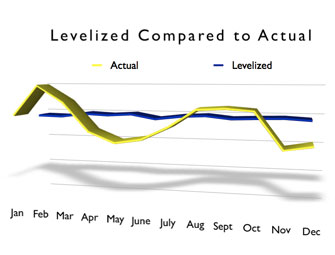 No Surprises
Budget billing prevents drastic changes in your bill, even during the coldest or hottest months of the year. A budget bill averages the previous 11 monthly bills and the current month's bill for a service address. See below for examples of how budget bills are calculated.
No Settleup
Because the budget billing amount is recalculated each month based on a rolling average, the need to settle up balances annually is eliminated. Reconciliation of your account will be necessary only if you move or decide to stop participating in the program.
Join Anytime
If NOVEC has been providing electricity to your service address for at least one year and your account is current, you are eligible to participate in budget billing. We will simply calculate your budget payment based on the average billing for your home. Call 703-335-0500 to sign up today.
Examples
To arrive at your budget billing amount, NOVEC adds your current month's use to your previous 11 months, then divides the total by 12. It is then rounded to the nearest dollar. 
 

The example below shows a customer with an electric heating and cooling system installed in their home.

Example
Actual Billed Amounts

| | |
| --- | --- |
| February *current month | 255.93 |
| January | 528.76 |
| December | 459.06 |
| November | 157.12 |
| October | 72.20 |
| September | 119.57 |
| August | 171.73 |
| July | 118.49 |
| June | 80.95 |
| May | 70.29 |
| April | 77.96 |
| March | 83.93 |

 

 

Example
Levilized Amounts

| | |
| --- | --- |
| February *current month | 229.00 |
| January | 187.00 |
| December | 161.00 |
| November | 87.00 |
| October | 82.00 |
| September | 82.00 |
| August | 86.00 |
| July | 99.00 |
| June | 91.00 |
| May | 83.00 |
| April | 93.00 |
| March | 85.00 |