College Scholarships
DEADLINE EXTENDED: MARCH 31, 2021.
NOVEC's 2021 Scholarship Online Application Process is Open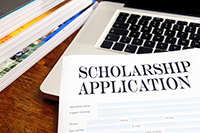 Each year, NOVEC provides local area high school students the opportunity to apply for college scholarships. The scholarships award $1,500 to high school students in five counties where NOVEC provides electric service – Fairfax, Fauquier, Loudoun, Prince William, Stafford, and in the City of Manassas Park. In addition, a single $1,500 scholarship is awarded to a student who lives in NOVEC's service territory and is either home-schooled or attends private school. Because the majority of NOVEC customers live in Prince William, Fairfax and Loudoun counties, two $1,500 scholarships are awarded in these counties.
 
After the scholarships are awarded, another review will be conducted of the winners and selection committees will award the $1,500 Garber Scholarship to the top outstanding student. This student will receive a total of $3,000.
Scholarship Requirements
Applicant must be a college-bound high school senior whose home is currently served by NOVEC.
Applicant must have at least a 3.5 grade-point average (G.P.A.) on a minimum 4.0 scale. Upload your transcript that includes first-semester grades to your application. Official transcripts may be mailed to Ashley Arnold, NOVEC, P.O. Box 2710, Manassas, VA 20108. The official transcripts if mailed must be received by the March 15 deadline.
Applicant must demonstrate a wide range of participation and leadership in extracurricular activities, community service and/or work experience. Supply information relating to these extracurricular activities.
Submit two letters of recommendation – one from a high school official (teacher, counselor, school coach, etc.) and one from a member of the community (church leader, Scout leader, club leader, supervisor, etc.) These letters may be mailed to Ashley Arnold, P.O. Box 2710, Manassas, VA 20108 for uploading, emailed to scholarships@novec.com, or the student may upload to their application. If mailed they must be received by the deadline date of March 15.
A 400-word essay is required. The theme should be auto-biographical, describing the experiences that have shaped your life, your present activities and aspirations for the future.
All required materials must be submitted online no later than March 31.
List colleges/universities applied and those you have been accepted to attend.
Failure to submit a complete package online by the deadline will disqualify students from consideration.
Completed scholarship applications will be reviewed by NOVEC's scholarship committee for evaluation and selection.
Scholarships will be presented at pre-graduation ceremonies at the schools of selected students. A complete listing of winners will be published on NOVEC's website and printed in the August 2021 edition of Cooperative Living.