Ways To Save
Saving energy in your home!
American homes use 38 percent of U.S. electricity and produce 21 percent of the nation's carbon emissions, according to the Building Performance Institute. One-third of American homes are at least 45years old and many need to be remodeled with new energy-saving appliances and building materials to conserve energy use and reduce the nation's carbon emissions. In addition, many homes built after 1963 were not constructed with energy-saving building technology.
Everyone has the power to reduce energy use. You'll find a number of tips in this booklet (PDF) and on this page to help reduce your energy usage. Start today with a few simple changes you can make around your home, including updating to energy efficient lighting.
 
 Visit the Energy Resource Center! 
NOVEC strives to provide customers with reliable energy at a reasonable cost. As a customer, there are several easy ways you can lower your personal energy usage and your monthly expenses. Below are some helpful links and tips which may help lower your energy usage.
Ways to Save
Whether you are in the market for a new home or you would like some additional ideas for saving money in your current home, please take a moment to read through NOVEC's "energy saving tips for your home" .
Other online resources include energy.gov and energizeefficiently.coop which provides quick access to an array of energy information.
Visit the Virginia Department of Mines, Minerals, and Energy website for more information on current energy-saving incentives.
Take advantage of technology
"Electrotechnology" is a technology that uses electricity to reduce total energy usage, decrease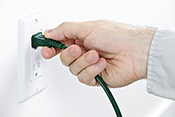 waste and pollution output, reduce labor, increase product or process quality and increase productivity.
For more information on how you can use this technology to achieve your goals, please visit our Electrotechnology Page.
For more information
For more information about saving energy and money, contact NOVEC's  Energy Services Department locally at 703-392-1503 or toll-free at 1-888-335-0500, extension 1503, or email energyservices@novec.com.