Tree Trimming
Tree trimming and takedowns are conducted on the NOVEC system on a 3½ year cycle. Tree crews from Lewis Tree Service, Inc., Asplundh Tree Expert, LLC, Pittman's Tree & Landscaping, LLC, and ABC Professional Tree Services patrol every mile of overhead line and trim or take down trees as necessary.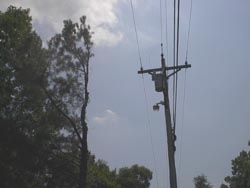 Generally, trees along main power lines will be trimmed so they are at least 10-15 feet from any NOVEC conductor. Trees along low-voltage service drops and street light wires will be trimmed back so branches have from 1 to 5 feet of clearance. Trees along main transmission lines may be trimmed back 50 feet or more from all conductors. Any dead, diseased, decayed, heavy-leaning, or uprooting trees that have the potential to fall onto a high-voltage line may be taken down upon inspection by the vegetation management staff.
All tree trimming done by NOVEC contractors is considered natural directional pruning. That is, branches that must be trimmed are removed flush with a larger limb if possible to promote a healthier tree. Branches that are growing towards or over lines are trimmed to encourage remaining branches to grow away from lines. Some trees located directly under lines, however, must be topped or taken down entirely to maintain safe electrical clearance.
Trees located directly below overhead NOVEC lines may be taken down at any time. At a minimum, such trees are trimmed to at least 6 feet below NOVEC's lowest conductor.
Trees located along the sides of overhead NOVEC lines are trimmed back to either the edge of the easement or at least 10 feet from the conductors from the ground up to at least 20 feet above the highest wires.
Debris from trimming trees in your maintained yard will be chipped and removed from your property.  However, brush from trimming operations through or along wooded areas is typically bush hogged (shredded with a large mowing tractor) within the right-of-way.  Any wood greater than 4 inches in diameter will be left in a stack along the right-of-way edge in lengths of no less than 4 feet.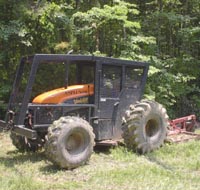 You may see a Bush Hog mowing in NOVEC rights of way.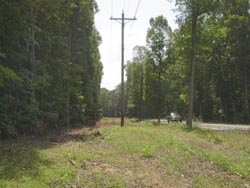 A neatly mowed right of way is ideal.
Aerial Line Inspection Program

NOVEC also utilizes aircraft to inspect the overhead line in critical transmission areas. These aircraft fly along all of our transmission line rights of way once every three months looking for falling or dead trees, line problems, or other out-of-the-ordinary conditions requiring immediate attention.

 
Customer Notification
Since March 1, 2007, customers have been notified of routine tree trimming activities by a notice printed on their monthly billing statement. Please pay attention to your bill as this is the only notification given for this routine tree trimming. If you have questions about the type of work to be done specifically on your property, please call the number printed with the notice. General notifications through NOVEC's What's Current articles and this website are used for NOVEC's pole inspection program, transformer painting and inspection program, and herbicide applications since these programs cover large portions of the system very quickly. Contractors are required by contract and safety requirements to maintain NOVEC rights of way in specific ways. Please do not attempt to have the contractors deviate from these requirements in any way.
In certain cases, you may receive a hand-delivered notice if we have found a hazardous situation on your property. Click here for a sample of this notification.
For more information, contact NOVEC at 703-335-0500.